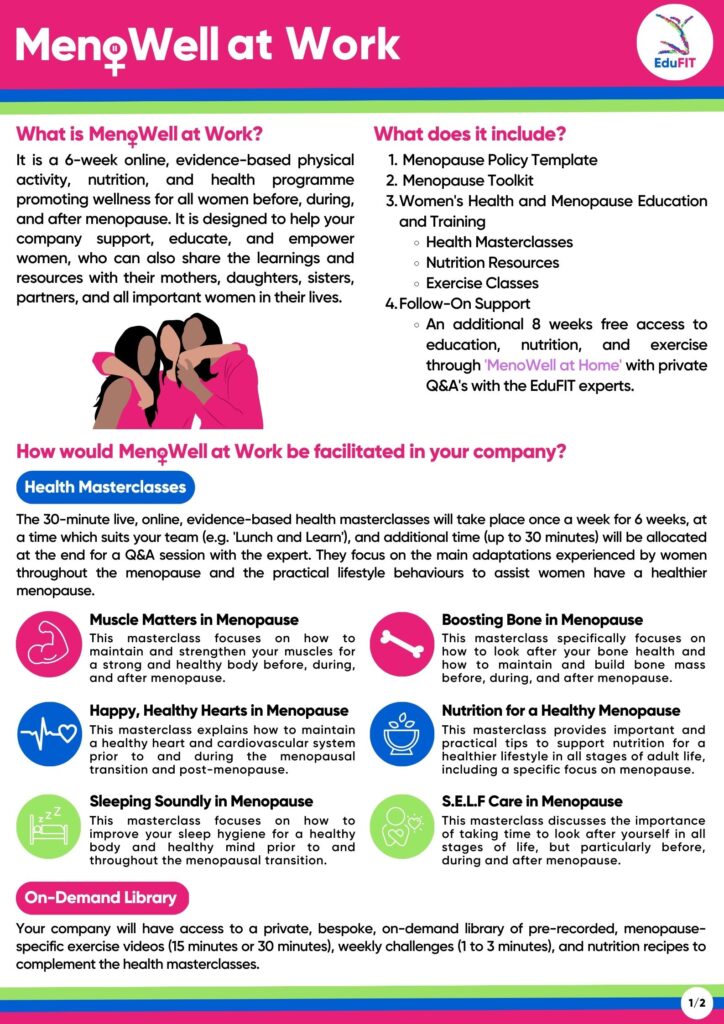 What is MenoWell at Work?
It is a 6-week online evidence-based physical activity, nutrition, and health programme promoting wellness for all women before, during, and after menopause. It is designed to help your company support, educate, and empower women, who can also share the learnings and resources with their mothers, daughters, sisters, partners, and all important women in their lives.
What does it include?
1. Menopause Policy Template

2. Menopause Toolkit
3. Women's Health and Menopause Education and Training
Health Masterclasses
Nutrition 
Exercise Classes 
4. Follow-On Support
An additional 8-week free access to education, nutrition, and exercise through 'MenoWell at Home' with private Q&A's with the EduFIT experts. 
Why did we create MenoWell at Work?
"For 20 years, my team and I have been listening to and working with women in all stages of life in the lifestyle and health space. Throughout this time, women have continuously expressed a need for age- and ability-appropriate, evidence-based, simple and practical, time-efficient,
accessible, menopause-specific physical activity, nutrition, and health education programmes. As the menopause is inevitable, women want to be educated, empowered and proactive in the early years leading into the menopause. We designed this programme specifically for this  purpose and are delighted to launch it in the workplace. My team and I are so passionate about women's health and we would love the opportunity to work with you."

Dr Diane Cooper
CEO and Founder of EduFIT, Clinical Exercise Physiologist and Health Researcher
Full details of the MenoWell at Work programme, including information on how it would be facilitated for your company and pricing can be found on the 2-page poster which can be downloaded above.
Please contact Dr Diane Cooper at 
info@edufit.ie
 or 087 238 8748 if you have any questions or would like to launch it in your workplace.