What is MenoWell at Home?
'MenoWell at Home' is our online health education and functional fitness monthly membership service for all women, designed to promote strength and wellness in all stages of life, with a special focus on the menopause.
What does the MenoWell at Home membership include?
Live online women-specific exercise classes every Monday and Thursday evening. Please see timetable below. You can read more about these exercise classes below.
On-demand women's health and menopause workshops e.g. Strengthening Muscles, Building Bones, Nutrition for a Healthy Menopause, S.E.L.F. Care, Healthy Hearts, Sleeping Soundly.
An on-demand library of women's health and menopause-specific exercise videos, which you can perform anytime, anywhere.
Nutrition component with monthly tips and recipes.
The monthly membership rate is ONLY €9.99!!
We want to make this incredible, high value, expert offer as affordable and accessible as possible, so that our team can support your strength, health, and wellness before, during, and after the menopause.
How do I sign-up to MenoWell at Home?
Please follow the steps below by filling in your personal details, a health history questionnaire, and then enter a username and password.
Following this, you will receive an email containing instructions on how to access the live exercise classes on a Monday and Thursday evening. Please check your spam email if this email does not reach your inbox.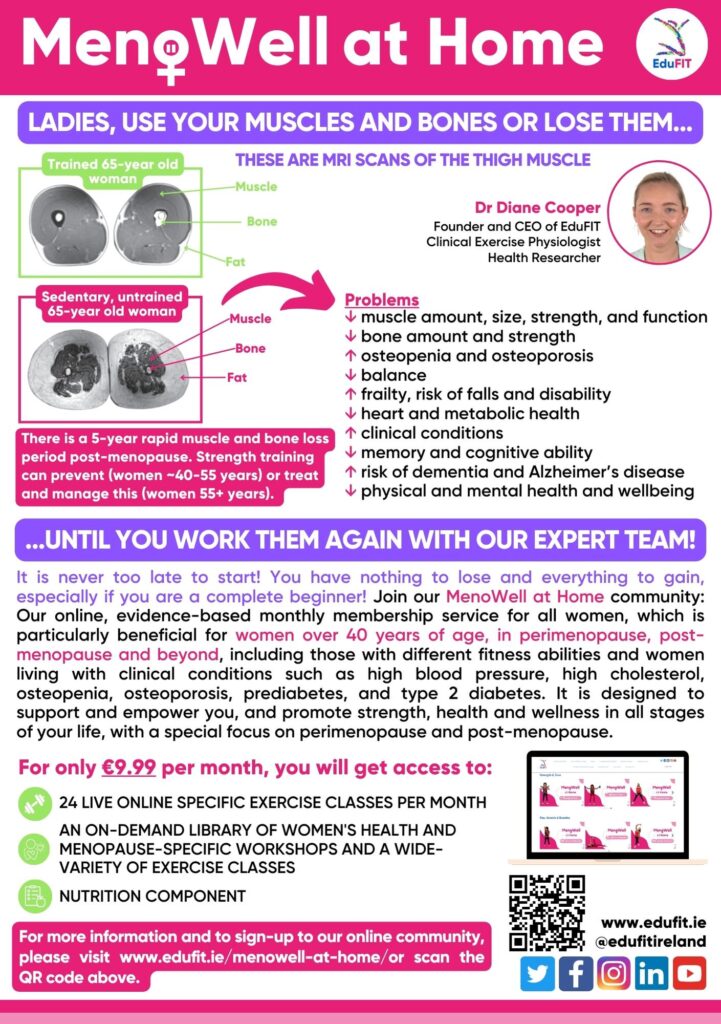 Live Exercise
Class Timetable