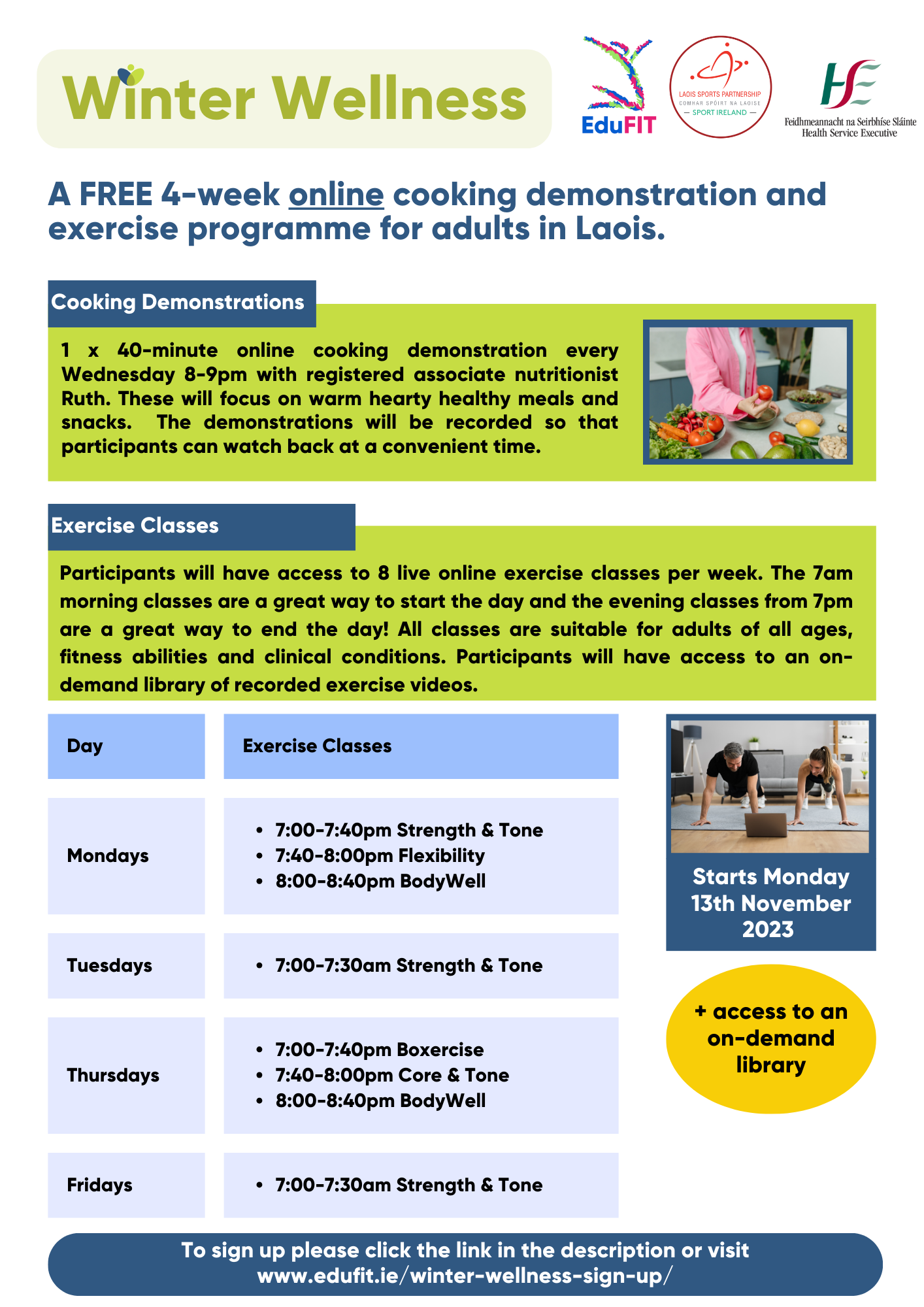 Winter Wellness | Laois Sports Partnership & HSE
'Winter Wellness' is a FREE 4-week online cooking demonstration and exercise programme for adults living in Laois. This programme will start on Monday 13th November 2023.
Programme Overview:
1 x 40-minute live online cooking demonstration per week with our registered associate nutritionist Ruth – Wednesdays at 8pm.
Access to 8 live online exercise classes per week. Please see the class timetable in the poster.
An on-demand library of exercise videos and nutrition recipes, as well as recorded cooking demonstration videos.
Please note that all online cooking demonstrations and exercise classes will be delivered via Zoom.
All exercise classes are designed by clinical exercise physiologists and are suitable for adults of all ages and all fitness abilities, including those living with clinical conditions. The exercise videos included in the on-demand library can be performed at a time and a place most suitable to you, making it as easy as possible for you to be as fit and as healthy as possible, anytime, anywhere.
This 'Winter Wellness' programme is designed and delivered by EduFIT in partnership with Laois Sports Partnership, and funded by Laois Sports Partnership and the HSE.
If you have any questions, please contact us by email or by WhatsApp using the details provided below.
Winter Wellness - Sign Up Form
By signing up, you are providing your information to EduFIT. All personal data will be stored and handled by EduFIT in compliance with General Data Protection Regulation (GDPR) guidelines for the duration of the programme (up to 6 months after the final exercise class). Our privacy policy can be viewed at www.edufit.ie/privacy-policy/
Personal data provided in the sign-up form will be reviewed by Dr Diane Cooper from EduFIT, a clinical exercise physiologist and qualified phase IV cardiac rehabilitation specialist, who may provide private exercise counselling to participants living with clinical conditions before the 4-week programme commences.